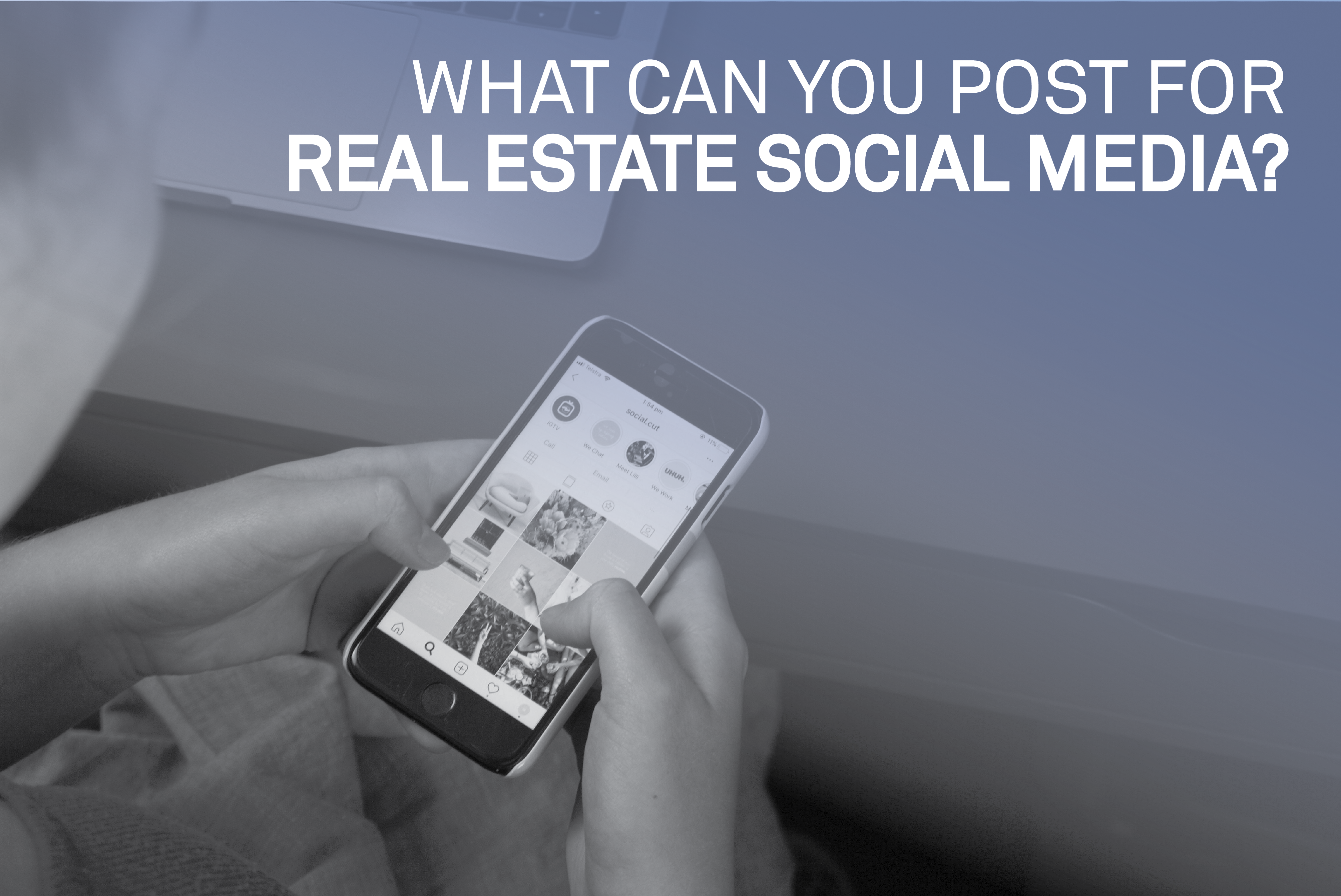 As a real estate agent, social media is a powerful tool- if you do it right. A lot of realtors post about their new listings and just stick to simply that, however, there are so many different things you can post about as a real estate agent that will raise your engagement and help you find potential clients. It's important to keep your followers engaged and interested in your content, so only posting one type of post can get old quickly.

Don't worry, we have the tools you need to help you construct your social media strategy that will give you results.

Post Your Listings

Posting your listings on your social media pages is a great way to get the word out. However, it's crucial to get unique with it. The point of the post is to catch the eye of a potential buyer and if it doesn't stand out, they will probably just keep scrolling. Instead of always doing the typical one picture and description, mix it up by using videos or adding a personalized effect. Above all, it's important that you are highlighting a couple of things in each post. First, it's always good to include the location and to highlight a cool feature about the home. If you are posting a photo, ensure it is high-quality and shows what you are highlighting. For example, if you are describing the magnificent fireplace, make sure you include a good shot of the fireplace on the post.

Congratulate Your Clients Who Bought a Home

Did you help someone find their dream home? Awesome! Congratulate them on finding the home they've been looking for. It's great to show on social media that you have happy, satisfied clients who are happy with their purchase. Show off that just like this excited client, you can help others find the home they are looking for too.

Post Industry Related Content

No one likes to sit through hours of commercials and sales pitches. If you are constantly only putting self-promotion posts on your page, your followers may get annoyed and either unfollow or not pay much attention to your page. Thanks to blogs and magazines, there are millions of free articles online that have great information or tips that relate to real estate that would make fantastic real estate social media posts. Try using Spotlight Media Group's "Social Compass" to find articles that your audience would take an interest in and post those. It could be anything from "How to Renovate Your Kitchen" to "Gardening Tips".

These types of posts are some of the easiest posts to do. Write a sentence or two about why people should read about this article, add a couple of hashtags, and you're good to go.

Interactive Posts

It's always a good idea to get your audience engaged in your content. The best way to do that? Ask them a question or for their opinion on something. Fortunately, Facebook and Instagram gives you many ways that you can do this. Besides just asking for people to comment, you can create polls, or questions and answers, so it gets your users engaged in your posts and gets people talking about the topic you posted about.

Open Houses

While posting about open houses is pretty expected on social media, due to how cost-effective and easy it is, it's important to add a little extra to catch people's attention.

While it gives you the information needed, it isn't super attention grabbing.

This post is a perfect example of an excellent way to grab the attention of your followers. It includes multiple pictures and bright colors to get people interested.

If you are having trouble getting people to show up to your open house, check out this article that outlines the best way to throw a successful open house.

Show the Benefits of Living in Your Area

You want to show people that they want to live in your area. Not only are you selling the home, but you are also selling the location. If it's not a great location, it won't matter how great the house is, people won't want to live there. So, show your followers the many benefits of living in your area.

Give an Inside Look

Show people why they should follow you! Whether you do giveaways for your followers, an inside look on the process or even a sneak peek of an upcoming property. This gives your followers the inside scoop of what's going on and they get to see a good look about what you are up to.

Take a look at this post by The Matthews Group, for instance. They give their followers an inside look at the staging process, so they can get the full experience.

Bottom Line: No matter what you do, keep your social media pages interactive and an interesting place for users to be.